FedEx has announced rate changes for its Express, Ground and Freight services that become effective in multiple increases that will roll out between January 4th and February 1, 2021.
Because of the significant amount of changes occurring in 2021 and the multiple dates on which these changes will occur, we've decided to break their General Rate Increase assessment into three separate sections this year.
Today's review includes the rate and surcharge increases that will go into effect on January 4th 2021, on the services listed above, with the caveat that the new late charge will released on January 4th and will effect shippers based upon their specific invoice cycle and payment terms.
Additionally, significant shifts in FedEx Delivery Area Surcharge (DAS) zips and Extended Delivery Area Surcharge zip (Extended DAS) will roll out on January 4th, 2021.
Also, Third party billing fees will also nearly be doubling.
Rates:
Standard list rates for FedEx Express package and freight rates will increase an average of 4.9% for domestic and U.S. import and export services, as well as Ground and Home Delivery services and though, as typical, more common zones and lanes are substantially higher than the announced average increase, as show in the example below: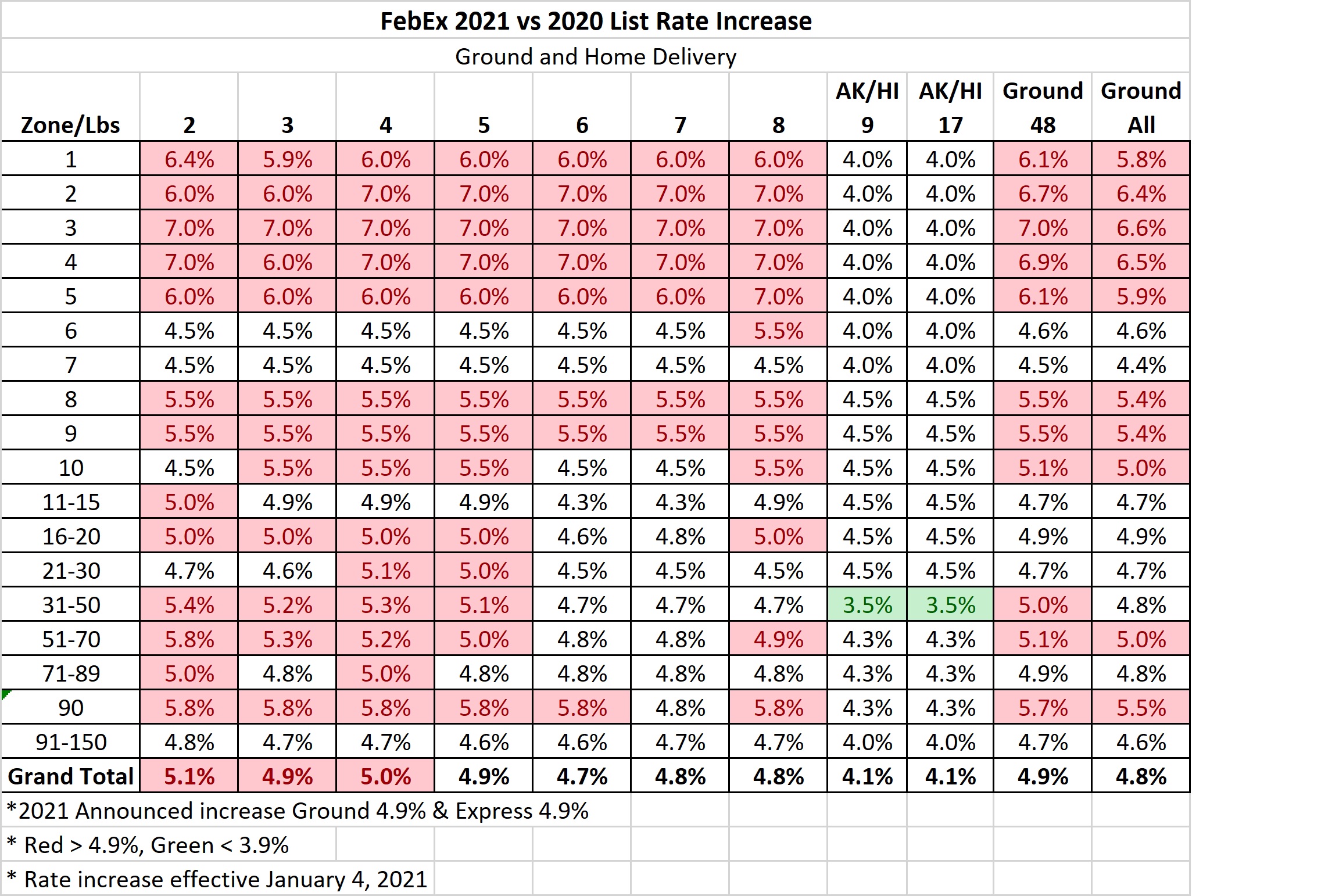 Multi-weight, SmartPost, International Premium, Retail and OneRate rates will increase as well.
Surcharges:
Additionally, click here for a detailed list of surcharges. In the interim, some of the more commonly applied surcharges and their increases are below:
3rd Party Billing:
Also, for shipments that are invoiced to a third-party account number, the service fee will increase from 2.5% per package to 4.5% per package, a significant increase and a fee that is not currently charged by UPS.
Address Correction:
Express, Intl and Ground $17 -> $18
Delivery Area Surcharge:
U.S. Express Residential: $4.40 -> $4.70
U.S. Express and Ground Extended Residential: $5.40 – > $5.90
U.S. Express Commercial: $3.10 – > $ 3.25
U.S. Express Extended Commercial: $3.60 -> $3.85
Ground Commercial: $ $2.95 -> $3.10
Ground Commercial Extended: $3.45 -> $3.70
Residential:
U.S. Express: $4.65 -> $4.95
U.S. Ground: $4.65 -> $4.80
Home Delivery: $4.00 -> $4.35
Zip Code Changes: DAS/Extended DAS:
In addition to the above changes, there are several pages of zip codes that will move either out of the DAS and DAS Extended areas and several more pages of zip codes that will move into these areas. The net effect appears to be more zip codes being impacted by either DAS or Extended DAS than previously. It would be advisable to update your DAS lists and determine the impact of the changes.
Late Fee:
FedEx is rolling out a new late fee this coming year, following in a tradition that UPS has followed for many years.
Effective January 2021, FedEx will begin to apply a 6% fee to invoices that are past their invoice due date for U.S. Express and Ground services, according to their specific payment terms.
Finally, Priority Freight and Economy Freight will increase an average of 4.9%, on January 4, 2021, while Freight rates will increase an average of 5.9% for applicable tariffs for pallet, volume and truckload services.
Finally, there is a good deal to digest here. If you have any questions, are interested in the zone change increases for additional services or have anything else you would like to review, please feel free to reach out at info@alexandrettaconsulting.com or 714-606-9298.
Melissa